its been like so long i didnt have Sushi...
thanks to my lovely ladies
Lady Noli & Lady Wid
for spending their time wif me last sunday...
OOooooO i'm sooo touch...
nie mcm kita bleh kawin org Jepun...hehe...
and so we had sushi at
Ramen Ten
...
anyway i wld like to try da sushi at chai chee one day...
so lets hav more sushi gerls!!!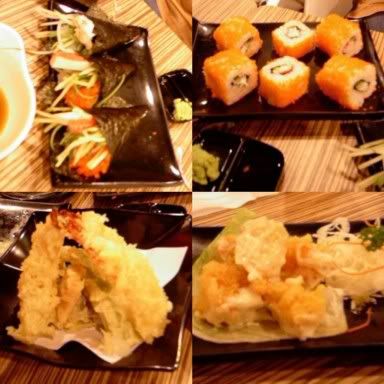 so these are wat we had...
clockwise: California Maki, Prawn Mayo, Tempura & California Rolls...
we ordered Tuna sushi, Kani sushi & Kani salad sushi too...
yummy yum yum...
feel like havin sushi
NOW!!!
after da sushi thing...
we went to this Spore arts museum...
watched Wayang kulit...
its 2 and half hrs show...
interesting yet i slept half way thru...
bunyi gamelan punye kuat pun me bleh tydo eh? haha...pelik~
so thats abt all on sunday~~~
ytdy...wat a day...never had my driving lesson on rainy day...kinda scared....plus i cant stop coughing da whole day...irritating...GATAL tekak gue...reached da center quite early so me sat ard...den suddenly came this Mat Salleh...hensem berg...body mcm model....guess he's waiting fer lesson too...tapi tulah ape lah nasib daku...jatuh lah saham gue...ape tidak asyik batuk terkokoi2...nasib baik no kahak...dry cough~~~ den skali he offered me
FISHERMAN's FRIEND
lah....aisey gue tak makan gula2 tu lah Salleh...dengan sopannye daku menolak perlawaan nye...haiz~~~ daku terpikat dgn matanye...."dari kerana mata yg mempunyai kuasa...."..."dari mata turun ke hati..." hahaaaaa....... dia pun tak lama duduk situ... b4 he leaves sempat dia cakap "I'll c ya ard..." hehe...i juz smiled & nod...mcm ye ye kita akan berjumpa lagik...tapi ape salahnye kan? oklah lah kita jumpa di episode yg seterusnyer~~~
anyway me don go fer Mat Salleh.... me fancy more to chinese + jepun looking....hehee... or italiano or sepanyol....salleh2 pucat lesu lesi nie...nanak ah!