NAFSU mengatakan WANITA cantik atas dasar RUPAnya, AKAL mengatakan WANITA cantik atas dasar ILMU dan KEPANDAIANnya, HATI mengatakan WANITA cantik atas dasar AKHLAQnya, AKHLAQ adalah BUNGA atau HIASAN diri kita..tanpanya hilanglah perhatian manusia pada kita....
Thursday, May 15, 2008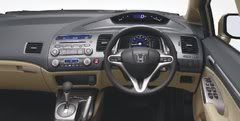 InsyaAllah....
when everything has gone pretty well and settle....
will start on the look for one...
Honda Civic 1.6 VTI....
=)
it's been soOOooOo long I didn't blog here...
miss blogging here thou...
was browsing and reading some of my precedent...

dropping by just to add on a little life story of mine...
of what's happening to my family lately....
I'm busy with my dad who is still in SGH...
hopefully he'll be discharge by next week...
he's in the hospital since mid march...
love to see you back at home Ayah....
he's getting much better now....
able to move and do things all by himself, Alhamdulillah....
recall those days where Ayah had his open heart surgery...
were moments where my mum, sis and myself having hard time....

things happen so sudden and least expected.....
the night Ayah had the attack right after maghrib, luckily I was at home...
was suppose to go for gym that evening....
Ayah kept on reminding me of the time, but I was just lazy to get myself ready....
hati ni berat nak pergi gym..., I dont feel good that day...
I guess it's a sign of something gonna happen that evening....
he went pale, cold sweat, chest pain and breathless......
I dont know what to do...
didnt even come to my mind to call for ambulance....
we went to A&E the next morning....
doctor found 3 major blocks....
unfortunately the blocks were the main coronary arteries....
Alhamdulillah, the surgery went smoothly....
and I'm much relief now looking at Ayah's condition....

thanks to all my close paternal and maternal family members who have always come visiting my dad now and then...
to my understanding colleagues, my primary school buddies who willing to hang out with me at the hospital, they came more than once hee~ I know something rare people do, anyway thanks girls for the company....
thanks All again for the care and concern....
I feel the LOVE....